Kids Count report: America's children are advancing despite the economy
The widely-watched Kids Count annual survey on the state of America's children shows gains in health and education despite the poor economy. But advocates say raised poverty rates merit more attention from lawmakers.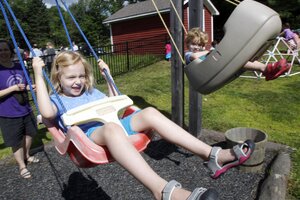 Toby Talbot/AP
More children are attending preschool, more elementary students are reading better, and more high-schoolers are graduating on time despite the sharp economic downturn, according to a new report released Wednesday.
Yet the increase in the number of children living in poverty, and the lagging negative effects expected from state budget cuts, are prompting advocates to call for a sharper national focus on children's well-being.
"This year's findings reveal signs of hope in the midst of tough economic times for millions of families across the country," said Patrick McCarthy, president of the Annie E. Casey Foundation, in a statement releasing the 2012 KIDS COUNT Data Book. The national philanthropy dedicated to children is based in Baltimore.
Policymakers and advocacy groups take note of the annual report, which the foundation has been producing using state-by-state data for more than 20 years.
The study found a 20 percent decrease in the number of children without insurance and a 16 percent decrease in the child and teen death rate.
In education, the study found:
• More preschool participation: The share of 3- to 4-year-old children not enrolled in preschool declined from 56 percent in 2005-07 to 53 percent in 2008-10. (Research has shown that at-risk children in particular improve school readiness when involved in high quality preschool.)
• Reading and math proficiency gains in public schools: The share of fourth-graders reading below proficiency in 2011 was 68 percent, down from 70 percent in 2005. In math, the share of eighth-graders below proficiency declined from 72 percent to 66 percent.
• Improved graduation rates: The share of students who did not graduate from high school on time declined from 27 percent in 2005-06 to 24 percent in 2008-09.
---