Smoking bans: Tobacco-free college campuses on rise in US
Many US college campuses are becoming tobacco-free as US schools institute total bans, indoors and out, on cigarettes and related products. Some smokers say the bans infringe on their choices.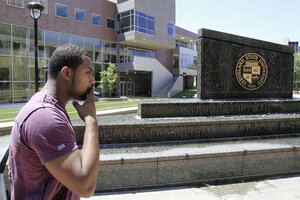 Tony Dejak/AP
The war on tobacco is going to college.
At a growing number of campuses nationwide, total bans on cigarettes and other tobacco products are showing up, barring students from lighting up anywhere on school grounds – even in the open air.
The most recent school system to snuff out campus tobacco was the Ohio public college system when the Board of Regents on Monday recommended an all-out prohibition on tobacco products. In June, the University System of Maryland announced its 12 institutions, inside and out, would go smoke-free by next July. Come September, the use and advertising of tobacco will be forbidden anywhere at schools within the City University of New York system.
Between January 2011 and this January, the number of US colleges and universities with total smoking bans rose from 466 to 648, according to the group Americans for Nonsmokers' Rights. Already this year, 126 schools have moved forward with smoke-free policies that apply to all areas of campus.
"We hear from colleges they're there to educate and raise the next generation of leaders, and that it's the responsible thing to do," says Bronson Frick, associate director of Americans for Nonsmokers' Rights, based in Berkeley, Calif.
Some colleges have never allowed smoking for religious reasons. But about a decade ago, some that permitted it began to impose bans on indoor smoking that also governed – coinciding with similar workplace laws – how far from entrances smokers had to be. The concept of the smoke-free campus, which prohibits smoking even outside, marks the trend's latest evolution.
---