College students: high in self-confidence but low in basic work skills
For today's college students – facing a tough economy and diminishing prospects – the goal of education is earning power, according to a new national study. But employers say some college graduates are not well prepared for the world of work.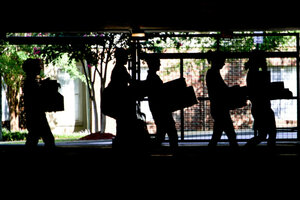 Dan Henry/Chattanooga Times Free Press/AP
Today's college students have been hit hard by the recession, but they exhibit a remarkable self-confidence that may outpace their skills for coping with the road that lies ahead.
This generation has its strengths, but independence and a clear sense of what's expected in the working world are lacking, according to the new book "Generation on a Tightrope: A Portrait of Today's College Students," which draws on national surveys and visits to more than 30 campuses around the United States.
"They're trying to precariously balance between their dreams and hopes for the future and the reality of diminished prospects," says Arthur Levine, president of the Woodrow Wilson National Fellowship Foundation and co-author with Diane Dean, an education professor at Illinois State University.
They may have trouble coping in a competitive economy because they "lack the ability to deal with adversity, or even imagine adversity," Mr. Levine says. "Whenever they've gotten into trouble, their parents have been there to bail them out."
The book offers guidance on how colleges, employers, and parents can do better in their supporting roles.
Sixty-seven percent of undergraduates now say the main benefit of a college education is increased earning power, compared with just 44 percent who said that in 1976.
That's perhaps not surprising, given how hard the recession has hit: Six of 10 college students say it affected where they chose to enroll. And nearly half of colleges and universities report increases in students living at home or dropping out temporarily for financial reasons.
---