As strike goes on, parent support wavers for Chicago teachers
Signs are mounting that parent support for striking Chicago teachers, which has been strong, is eroding the longer the strike lasts. Union will decide later Tuesday whether to accept the contract that would end the strike.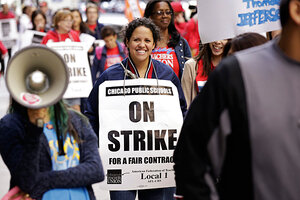 John Gress/Reuters
As Chicago residents await news Tuesday about whether the ongoing teachers strike will end or continue, parents of school-age children – perhaps the people most directly affected by the labor dispute – appear to remain mainly on the side of the union, although there are signs that their support is eroding as the strike drags on.
That may be something delegates from the Chicago Teachers Union will consider when they meet Tuesday at 3 p.m. CDT to vote on whether to accept the negotiated contract. If they reject it, classes for some 400,000 students in the Chicago Public Schools will not resume and a local court may hold a hearing Wednesday on the city's complaint that the teachers are striking illegally.
For now, many parents interviewed for this story say they support the teachers who spend the majority of the day with their children, but that the continuing work stoppage, now in its second week, is harmful to the kids and poses an economic hardship for them.
That conflict is apparent in the comments of Sarah Liebman, who has a son and a daughter at Oscar F. Mayer Elementary School on the city's North Side.
"I definitely have been agreement with what they're fighting for," she says of the teachers, noting that she and her husband have been juggling their daily schedules to accommodate the sudden need for day care for their children.
But she also sees the effect the break in school has had on their children.
"This has definitely been an extension of summer, and I can tell my sixth-grader is getting a little antsy" to return to school, she says.
She suggests that the union and the school district could have avoided the strike by hashing out a contract during the summer, soon after union members voted to allow a strike. "They should have started earlier in the process … [and the union vote] should have raised a huge flag to CPS [Chicago Public Schools] that they were really serious," says Ms. Liebman. "We could have avoided having the kids out if discussions would have happened in July."
---