Judge blocks Gov. Bobby Jindal's signature school voucher program
The nation's boldest school voucher program made nearly half of Louisiana's students eligible for taxpayer-funded vouchers to attend private schools. A state judge ruled the plan unconstitutional, setting up a funding fight in an age of austerity.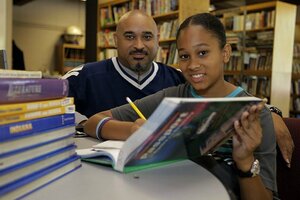 Michael Conroy/AP
In a major blow to Louisiana Gov. Bobby Jindal's school reform efforts, a state judge on Friday found that Gov. Jindal's signature state school voucher program, which makes nearly half the state's students eligible to attend private schools, is unconstitutional.
Louisiana's program, pushed through in April by Jindal, allows families of four making no more than $57,000 a year to receive vouchers for private schools. Its goal is to impose competition on public schools while allowing poorer parents to move their children out of failing schools. About 450,000 Louisiana pupils are eligible.
Teachers unions have blasted the program, complaining that some of the private schools receiving the money focus on so-called Young Earth Creationism over evolution. A judge hearing a separate voucher lawsuit in New Orleans last week agreed with another complaint: That the voucher program threatens to undermine federal desegregation orders that are in effect in 30 school districts around the Pelican State.
RECOMMENDED: Six takeaways on the achievement gap
While Jindal will appeal Judge Tim Kelley's ruling to the Louisiana Supreme Court, the ruling's main importance is how it's likely to create more debate about how to fund state voucher plans, which currently are in place in 12 states, about half designed for children with certain disabilities.
Teachers unions brought the lawsuit in Louisiana, while 12 families have brought a lawsuit currently being mulled by the Indiana Supreme Court over similar issues: whether state law mandates that taxpayer money go exclusively to public, or common, schools.
---