Vocabulary 'report card': 'Urbane' stumps 8th-graders, 'grimace' doesn't
A first deep look at vocabulary skills among America's students shows their vocabulary proficiency tracks closely with their reading ability overall. Racial gaps exist, but boys and girls performed about the same.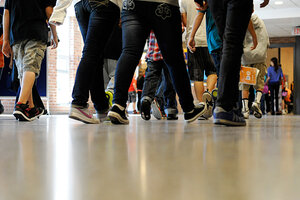 Hans Pennink/AP/File
For the first time, the Nation's Report Card is zeroing in on a key component of students' reading skills: vocabulary.
A useful understanding of vocabulary goes beyond simply recalling a dictionary definition, education experts say. What's most important is for students to pull the appropriate meaning from a word in the context of what they're reading.
Thursday's new report from the National Assessment of Educational Progress (NAEP) shows results from a bolstered focus on vocabulary within the reading assessments given to national samples of students in 2009 and 2011.
The results show that students' vocabulary knowledge tracks closely with their overall reading ability.
"About half of the variation in reading comprehension [on the main test] can be associated with variation in vocabulary," said Jack Buckley, commissioner of the National Center for Education Statistics, in a conference call with reporters Wednesday.
The report also hints that schools and parents have a long way to go to ensure that their children can precisely understand the kinds of texts they will encounter in an academic context.
"There's quite a bit written about vocabulary and the best ways to teach it; unfortunately we're not seeing that go into the classrooms as much as we'd like," said Margaret McKeown, a senior scientist and clinical professor at the University of Pittsburgh School of Education.
"Typically for the younger kids, teachers often use words that the kids already know … conversational words,… but they're not attending to the meanings of words kids are meeting in texts," said Professor McKeown, who helped develop the reading and vocabulary framework for NAEP.
---