Unused school offers Sandy Hook a new home, and path forward
Sandy Hook teachers are recreating classrooms, and parents and children are touring the unused school just six miles away that has rushed to get ready. Even the color scheme will be familiar.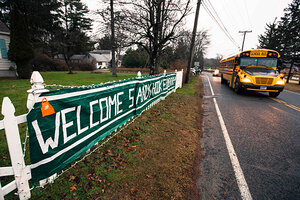 Lucas Jackson/Reuters
The sign is slated to go up Thursday afternoon making it official: Sandy Hook Elementary has a new home, where teachers are already beginning to set up classrooms and families have been touring in anticipation of starting back to school in early January.
Police and grief counselors have been on hand during the rapid transformation of the former Chalk Hill middle school in nearby Monroe, Conn.
It will have the familiar Sandy Hook Elementary School colors of green and white. Even desks and pictures are being moved to the same spots in their new classrooms, to help the students feel at home.
"I said within two hours of hearing about the shooting, 'You guys are welcome here,' " says Monroe First Selectman Steve Vavrek. Hundreds of people have been working around the clock to clean and upgrade the school, and ensure that it will be "the safest school in the country," Mr. Vavrek says.
Wednesday night he gave a tour to a mother and father whose 7-year-old son has said he doesn't want to talk about last Friday's violent shooting that left 20 of his schoolmates dead. "The only thing he's told his parents is that he heard every gunshot, every noise … [and that] he wanted to pick up his backpack that had $12.64 in it," Vavrek says.
Thursday morning the boy came in with his grandmother and was able to pick up his backpack, and "he wants to go to school," Vavrek says.
Other students have been excited to see their teachers setting up, and to see the school's big gym. So many donations have poured in that plans are under way for a new playground.
Chalk Hill had been unoccupied since 2011 because of declining enrollment. As the new Sandy Hook, it will be governed by the Newtown school district, Vavrek says.
At one point, Sandy Hook Elementary parents thought their children would be scattered to various other schools, Vavrek says, so they were relieved to have the offer of the site, just six miles from the original Sandy Hook school in Newtown.
---