New school, new routines: what awaits Sandy Hook students Thursday
The students of Sandy Hook Elementary will return to school – in a different building – Thursday morning. Many things have changed since the Dec. 14 massacre that killed 26 students and staff, but the school is trying to create as much continuity as possible for kids.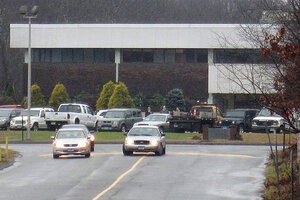 Andy Hutchison/The Newtown Bee/AP/File
School starts again at 9:07 Thursday morning for the students of Sandy Hook Elementary.
Going back to school won't be the same as getting back to normal. But connecting students to their friends, teachers, and other caring adults can go a long way toward helping them recover from the traumatic mass shooting they survived on Dec. 14, experts say.
"They need to get back and see their peers," says David Schonfeld, director of the National Center for School Crisis and Bereavement in Cincinnati. "Particularly for young children, they may not really know or fully accept who is alive if they don't see them…. [And] getting back to school is another opportunity for them to express how they're feeling and get some assistance in coping."
The school building – a repurposed former middle school in nearby Monroe, Conn. – is different. But staff and volunteers have made every effort to create a familiar environment – even setting up desks and pictures to match what students left behind.
Sandy Hook teachers decided "the familiar surroundings would be more a comfort than an emotional trigger," says Eric Excell-Bailey, a spokesman for the American Federation of Teachers in Connecticut.
Children may be apprehensive about starting back, especially at a new school, but "continuity is very important," says Julian Ford, a psychiatry professor at the University of Connecticut who has been advising pediatricians and mental-health providers in the Newtown area. "Kids pick up on very small details. They can be very reassuring without anyone having to say a lot at all," he says.
---