Police in schools 'not the answer,' coalition says, urging broader strategy
Civil rights groups, educators, and law enforcement representatives say police in schools, 'while well-intentioned,' can end up causing other problems for students the police are there to protect.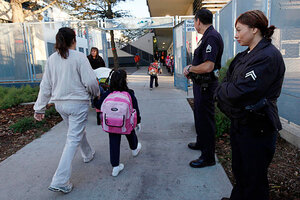 Nick Ut/AP
As communities around the country rush to place more armed officers in schools in the wake of the Newtown shooting, a coalition of civil rights groups, educators, and law enforcement representatives are trying to draw attention to the negative side effects that could result. They are urging Congress and the Obama administration to direct resources instead toward more comprehensive school-safety strategies.
"More police are not the answer," said Judith Browne Dianis, co-director of the Advancement Project, a civil rights group that organized a press conference call Friday. "While well-intentioned … often officers end up arresting the young people they are there to protect … [and often it's for] incidents that are not threats to safety."
The heavy reliance on police in schools has a disproportionate impact on students of color – who are more likely to be suspended or pushed into the juvenile justice system for adolescent behaviors that should be corrected instead by educators, say groups such as the NAACP Legal Defense and Educational Fund (LDF).
Pat-downs and tickets for truancy "make us feel unsafe and unwelcome in our own schools," said Tanisha Dennard, a member of the Youth Justice Coalition in the Los Angeles area, during the conference call. As a student in LA, she said, she couldn't afford bus fare and was not given the chance to explain her tardiness when she had to walk to school. Because her mother couldn't pay the hefty fines issued at school by police, she ended up in the juvenile justice system.
Yet advocates of school-based police, often known as school resource officers (SROs), say that if they are properly trained, they are a valuable part of any school's safety strategy, and expanding their role around the country can only help.
---