Armed Arizona posse guards schools: Vigilantes or vigilance?
Sheriff Joe Arpaio of Arizona's Maricopa County has dispatched his armed posse to guard public schools. For members of the posse – often retirees – it's a chance to serve.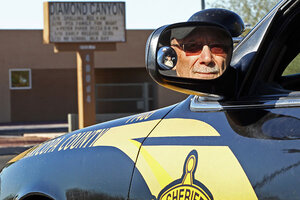 Ralph Freso/Reuters/File
From a distance, the Maricopa County sheriff's patrol car parked near the entrance to a school parking lot suggests the presence of a uniformed deputy, sitting vigilant behind the wheel – a 9 millimeter Glock on his waist, a Remington shotgun nearby, and a bulletproof vest snug under his tan shirt.
But the man behind the wheel is no deputy.
He is retiree David Bennett, a volunteer with the armed posse that Sheriff Joe Arpaio recently dispatched to patrol school zones in metropolitan Phoenix. It is the sheriff's answer to keeping students safe in the aftermath of the Newtown, Conn., school shootings in December that left 26 people dead, including 20 children.
It is also at least a glimpse of how schools might look if the National Rifle Association had its way. In the wake of the Sandy Hook Elementary massacre in Newtown, the NRA proposed putting armed guards at the entrance of every school. It vowed to help train ex-cops and other volunteers for the task. Here in Phoenix, Sheriff Arpaio has essentially already taken the lead.
School administrators did not respond to calls requesting comment, but among the parents interviewed, the response was favorable.
"I think it's good for the community, I think it's good for the schools," says Karen Brinkman, who has children in Maricopa County public schools. "There needs to be a presence there."
---