Chicago's proposed school closings called unfair to city's poorest students
Citing a budget deficit and declining enrollment, Chicago proposed Thursday that 61 public schools be closed. Teachers and parents warn that the poorest students will be affected the most.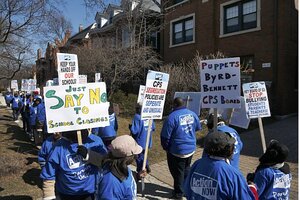 Charles Rex Arbogast / AP
In what would be the largest public school closing in US history, Chicago officials are proposing to shutter 61 schools, 9 percent of the 681 schools citywide.
The proposed move is being blasted both by the teachers union and parent groups, who charge that the city is misleading the public regarding the decline in population in certain neighborhoods where it seeks consolidation. They say the decision will ultimately harm the poorest of the city's children by forcing them to commute farther away from their homes and learn in overcrowded classrooms.
The district has never before closed more than 11 schools in a single year.
"No doubt this is going to be deeply disruptive," says Steve Tozer, a professor of education and director of the Center for Urban Education Leadership at the University of Illinois at Chicago.
Chicago Mayor Rahm Emanuel says the decision's reasoning is financial. The Chicago Public Schools (CPS) system, which is the third largest in the nation and operates under the control of City Hall, faces a $1 billion budget deficit in the new fiscal year and that each closed school will save the district between $500,000 and $800,000.
"Our students cannot wait for us to put off these difficult decisions any longer…. This problem is not unique to Chicago, and like school systems where enrollment has dropped, we must make tough choices," he said in a statement released Wednesday.
However, advocacy groups, the union, and academics agree that the metric the city is using to establish a need for consolidation is not accurate, and that the decline in enrollment is not as harsh as it insists. Last fall, for example, CPS officials ranked 330 schools as underutilized because of enrollment declines. Between 2000-2013, the city says it lost 145,000 students.
---