Rutgers basketball coach Mike Rice and the evolution of 'tough love' (+video)
The reaction to video footage of the tirades by Rutgers basketball coach Mike Rice suggests that the public is no longer willing to give coaches broad leeway when they turn to abusive tactics.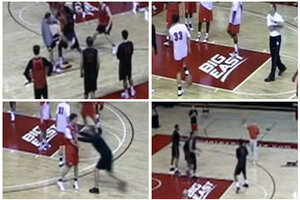 ESPN/AP
Calls continued to mount Thursday for the athletic director and even the president of Rutgers University in New Jersey to be fired for not taking tough measures sooner against men's basketball coach Mike Rice, who was fired Wednesday for his violent treatment of players after ESPN brought video footage to light.
Many see the initial discipline Mr. Rice received as a slap on the wrist and suggest it points to a double standard in the treatment of big-time coaches compared with other educators. But the incident is also prompting dialogue about broader societal issues – including the tolerance of antigay and gender-based slurs in sports, and whether the desire to build "toughness" in athletes too often turns into a destructive stream of negative feedback.
The reaction to the video at Rutgers and nationwide, some say, shows signs of shifting social views on what is good, hard-nosed coaching designed to push players to improve and behavior that is simply petulant bullying.
---