Despite new director, FAMU Marching 100 struggles to shed hazing legacy
The Florida A&M University Marching 100 band hired a new director but remains suspended. Administrators say they want to root out the culture of hazing that led to Robert Champion's death.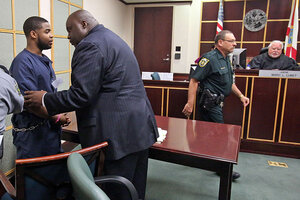 Red Huber/Orlando Sentinel/AP/File
The famed Marching 100 band at Florida A&M University (FAMU) has a new director, alumnus Sylvester Young. But when the group's percussive precision steps will be featured again on a playing field is still up in the air.
It depends, Mr. Young and FAMU interim president Larry Robinson implied Tuesday, on how long it takes to change the culture of hazing that led to a student's death and the band's suspension in the fall of 2011. The fallout included the resignation of the band director and the university's president, criminal charges, and civil lawsuits.
"We can't just put them back on the field as if nothing has happened," said Young after the announcement Tuesday. He said that the death of drum major Robert Champion has opened the eyes of band leaders around the country to the need to address hazing, a practice he said probably was going on back in the 1960s when he marched in the band.
FAMU's new policies include more academic requirements for joining the band, as well as campuswide zero tolerance for hazing. People with knowledge of hazing activity are required to report it within 24 hours, and retaliation against someone who makes such a report is prohibited.
At least 15 students have been dismissed this year so far over hazing allegations, and some students have complained the policies have gone overboard.
The school also announced this week that Deirdre McRoy would fill a new position to ensure the music department was complying with anti-hazing policies.
---