New York test scores hint at hard road ahead for Common Core
New York is among the first of 45 states to test students as it implements new standards for college- and career-readiness. The poor results mean the Common Core reforms will require patience.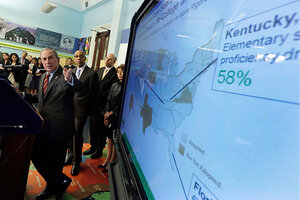 Richard Drew/AP
The controversy surrounding New York State's latest test scores hints at the difficult path most states can expect to tread as they begin to align tests to new Common Core State Standards in English and math.
Just 31 percent of the state's students in grades 3 to 8 were deemed proficient in math and in English language arts (ELA) on the new tests, compared with about 65 percent in math and 55 percent in ELA on last year's tests. Kentucky, another leading-edge state implementing its own common core tests, experienced similar declines in scores last year. Most of the 45 states that have signed on to the Common Core are waiting until at least 2014-15 to implement common tests that are still in development.
For those who support the Common Core, a set of standards for college- and career-readiness in the 45 states that have voluntarily adopted them, the drop in New York's scores offers a more honest benchmark. It shows how much work schools need to do to prepare students for future success in colleges and careers. It's predictable in the early stages, they say, but over time, teachers and students will adjust to new demands and come out ahead.
The scores, released Wednesday, "reflect the hard truth that students are struggling to meet these higher goals," said Chris Minnich, executive director of the Council of Chief State School Officers, one of the groups developing the Common Core, in a statement.
Some critics of the Common Core, however, see it as a misguided attempt to create national standards. Others see it as yet another example of overreliance on testing and a way to label the public schools as failing to create an excuse for more privatization of education.
"The leaders of [New York] state seem intent on discouraging students, teachers and principals. Why do they want public schools to look bad?" wrote Diane Ravitch, an education historian and prominent critic of test-based accountability reforms, in an opinion piece for Newsday.
Common Core standards, and the tests associated with them, are controversial, and the New York results have given both sides fresh material to support their side of the debate.
---