Ground zero mosque flap: how Obama and Democrats can recover
Time to change the subject from the ground zero mosque controversy to something else, like jobs and the economy, say Democratic strategists. But the issue continues to draw comments from Democratic candidates.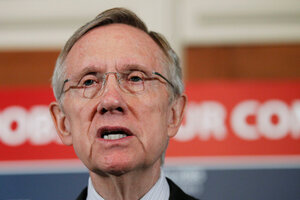 Manuel Balce Ceneta/AP
How can President Obama and the Democrats recover from the mosque brouhaha?
Change the subject, say Democratic strategists.
Mr. Obama needs to "get back out there and talk about his plans to get the economy back, and quit getting distracted with these other issues," says a Democratic consultant based in Washington.
"On some level, I was very proud of him for weighing in" on the controversy over the privately owned Islamic center planned near ground zero in Manhattan, the consultant adds. "But as a Democratic political strategist, he is screwing all of us. He is screwing the party. And he's got to get control of the message. All these House candidates ... they're all feeling it."
But even if Obama himself has stopped talking about the mosque, others in his party have continued to fuel the beast known as talk TV. On Monday, Senate majority leader Harry Reid of Nevada, who is locked in a tough reelection battle, said through a spokesman that while the First Amendment protects freedom of religion, he "thinks that the mosque should be built someplace else."
On Tuesday, Democratic Illinois Senate candidate Alexi Giannoulias came out in support of the mosque, according to Associated Press. "Are we going to talk about tolerance, talk about freedom of religion, or are we actually going to practice it?" Mr. Giannoulias said during a visit to the Illinois State Fair in Springfield.
---