The mood on Main St. as midterm elections loom
Eagle, Colorado, a town struggling to surmount recession, offers a window into why America seems so sullen heading into what could be a hinge moment in politics.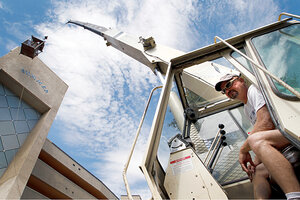 Tony Avelar/The Christian Science Monitor
A lot of adjectives come to mind to describe this small town, set in the Rockies just west of Vail, Colo. Drive through its inviting streets and you'll find neat rows of houses and open park spaces, children riding by cheerfully on bikes without parental supervision, and small local shops where the cashier knows customers by name. It all speaks of a certain image of America – quaint, idyllic, even Rockwell-esque. And all set against a stunning mountain backdrop.
That's why the conversations with locals here can seem so jarring. Poke your head in the local drugstore or the corner cafe and the words you'll hear more often are "frustration," "anger," or "uncertainty."
At an outdoor table at the Dusty Boot steakhouse, Susan Balcomb spears what's left of her appetizer as she looks across the street. "We still haven't hit bottom yet here," she says. "There is a lot of frustration. We'll be back, but it won't be like before."
At the city's BMX bicycle track, Tracy Whicker watches her son roll up and down the dirt hills. "We haven't hit rock bottom yet," she says. "I think we are going to crash and crash hard."
Not only crash, but crash hard. And if you spend a few days walking and talking in Eagle you'll quickly learn those voices are not unusual. Theirs is the prevailing view, even the dominant one. Times are hard. Times have changed. Times will not be the way they were for a long time – if ever.
But what may be most remarkable about these sentiments in the fall of 2010 is how unremarkable they are in the United States.
---