D.C. Mayor Adrian Fenty poised to get the boot?
Opinion polls on Tuesday's Democratic primary for mayor of Washington, D.C., don't bode well for incumbent Adrian Fenty. The schools and social-class disparity are key issues in the contest.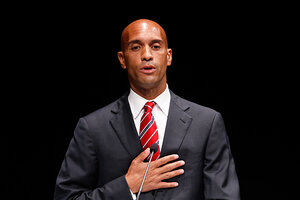 Jacquelyn Martin/AP
Adrian Fenty began his day Sunday by swimming 1,500 meters, biking 40 kilometers, and running 10 kilometers in the Nation's Triathlon.
But for the mayor of Washington, D.C., an experienced triathlete, the tougher challenge comes Tuesday: overcoming a significant deficit in polls to survive the Democratic primary, which, in a heavily Democratic city, would be tantamount to reelection.
The latest poll, released Friday, shows Mayor Fenty trailing his top opponent, City Council Chairman Vincent Gray, 51 percent to 38 percent. The so-called "Supermarket Poll," conducted by students from George Washington University and a university official, Bernard Demczuk, has accurately predicted every D.C. mayor's race since 1994. They interview voters at grocery stores around the city.
Two other polls released last week showed Fenty down seven and 11 percentage points. In late August, a Washington Post poll showed Fenty trailing Mr. Gray by 13 points among Democratic voters, and 17 percent among likely voters.
The mayor's reversal of fortune is nothing short of stunning. Fenty won election four years ago by sweeping all 142 precincts after impressing voters with his tireless door-knocking and promises of rapid improvement in city life, including the district's benighted school system.
Now he faces an electorate divided along racial lines. Though most D.C. voters say he has brought improvements, almost 60 percent of African-Americans say he cares primarily about upper-income residents, according to the Post poll. Fifty-six percent of black voters hold an unfavorable view of Fenty, up from 17 percent in 2006. Across the city, most black voters say they don't trust Fenty and believe he doesn't understand their problems. The down economy doesn't help. In the poorest, largely African-American sections of the city, unemployment reaches 30 percent.
---
Follow Stories Like This
Get the Monitor stories you care about delivered to your inbox.