Michael Steele's 'Fire Pelosi' bus tour: 48 states or bust
GOP chairman Michael Steele wants to oust Democratic House Speaker Nancy Pelosi with his 'Fire Pelosi Bus Tour.' But some in his own party are gunning for Steele's job too.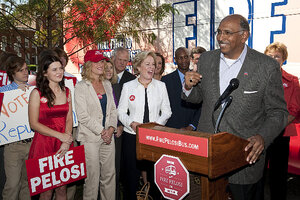 Newscom
Republican National Committee chairman Michael Steele hit the road in a big red bus Wednesday. And not because some in the GOP would like to see the back of him as their party's chief spokesman (although that's also true).
No, Steele's latest ploy to rev up his party as it tries to figure out what to do about the "tea party" movement is the "Fire Pelosi Bus Tour." Over the next six weeks, the bus will cover 14,000 miles, visiting more than 100 cities and towns in its quest to help oust House Speaker Nancy Pelosi (D) of California. And oh yes, Steele hopes, raise a lot of money along the way through its special website.
"The next six weeks will be entirely devoted to firing Nancy Pelosi, standing up to the Democrat's big-government agenda, and diving into the trenches to do the hard work of turning out the vote and winning races up and down the ballot," he said in a statement.
Speaking to CNN, Pelosi spokesman Nadeam Elshami managed to get a lot into a one-sentence rebuttal sound bite: "Republicans can ride around the country, but they can't run away from their record of privatizing social security, shipping American jobs overseas, and busting the budget to give tax cuts for millionaires and billionaires."
In taking on the House Speaker, Steele is aiming his bus at a huge political target.
---