Barbara Boxer, Jerry Brown lead in new California poll
Barbara Boxer leads Carly Fiorina and Jerry Brown is ahead of Meg Whitman in a new USC College/Los Angeles Times Poll. But Republicans are more enthusiastic about voting.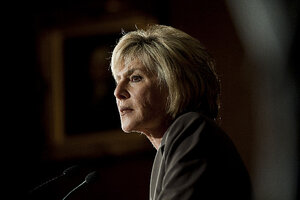 Newscom
California Democrats are taking heart from a new poll showing Jerry Brown leading Meg Whitman in the race for governor while Barbara Boxer is ahead of Carly Fiorina in the US Senate race. But with more than a month to go before the election and 10 percent of likely voters still undecided, both races – especially the Brown-Whitman contest – remain close.
This is the bottom line from a USC College/Los Angeles Times Poll released Sunday.
Brown now leads Whitman 49-44 percent, which is close to the poll's margin of error. Boxer, meanwhile, has widened her lead over Fiorina to 51-43 percent. California's senate race could prove crucial in Democrat's efforts to hold on to Senate control.
In the governor's race, Whitman's support levels "seem to have gotten to a certain point and then stalled," said poll director Darry Sragow in a conference call with reporters Sunday. "She gets credit for ability to tackle the economy, but Jerry is significantly ahead of Meg when it comes to 'understands the problems and concerns of people like me'."
"Voters give credit to Whitman when it comes to having new ideas, but they are divided on whether they want a governor with business experience or government experience," says Sragow. "And they overwhelmingly prefer a governor who will be collaborative rather than confrontational."
---