How will California change if voters make marijuana legal?
Polls show California voters may well approve Proposition 19, which would make marijuana legal in the state. Costs and benefits are hotly debated by both sides.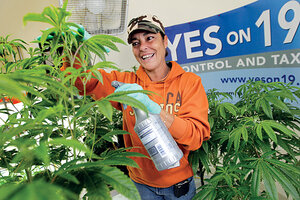 Tony Avelar/The Christian Science Monitor
In a street-level flat of offices off a downtown sidewalk here, computers hum, volunteers make calls, and James Rigdon explains why Proposition 19 – California's ballot initiative to legalize marijuana – should pass.
"The decades-long war on drugs has failed," says the field director of the Yes on 19 campaign. "It's still easier for a kid to get his hands on a joint than to get a beer or a cigarette. Sixty percent of drug cartels' money comes from marijuana sales. We need to take that away."
Several blocks away, Livina Hedgerow, kneeling in her garden, says Prop. 19 is a bad idea.
"This is just what we don't need," says the retired teacher. "Another legal drug for kids to get messed up on. It will lead them to worse drugs. It's just wrong."
The two comments frame the debate swirling in California over Prop. 19 and what the state would look like if voters make it the first in the nation to legalize, regulate, and tax the sale of marijuana.
Opinion polls show Yes on 19 holding the advantage with a little more than a month to go before the Nov. 2 election. Among likely voters, 47 percent support the measure, while 37 percent are opposed, according to a survey released Sept. 15 by Public Policy Polling. The poll's margin of error is 3.9 percent. Back on July 5, a Field Poll of likely voters had the opposition leading, 48 percent to 44.
As Election Day nears, the propaganda war is intensifying, with the two sides expecting that whatever happens in California is likely to be replicated elsewhere, eventually.
---