Marijuana initiatives could bring young Democrats to the polls
Surveys show that Democrats are much less excited about Election 2010 than are Republicans. But in four states, marijuana ballot initiatives could motivate liberal voters.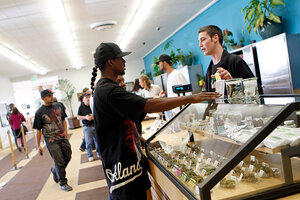 Robert Galbraith/Reuters/file
Will marijuana initiatives on the ballot in four states help get young voters to the polls on Nov. 2, and once they're in the voting booth, will they also vote for Democrats?
The Just Say Now campaign to legalize marijuana launched an online phone bank Friday to target young voters not otherwise likely to vote in 2010 midterm elections – including so-called surge voters, who backed the Obama presidential campaign in 2008. The aim is to identify supporters of ballot initiatives to ease restrictions on marijuana in California, Arizona, South Dakota, and Oregon, and then get them to the polls.
As a byproduct, however, the drive could affect the so-called enthusiasm gap in those states. Polls show that Republicans are much more enthusiastic than Democrats about voting Nov. 2, but marijuana initiatives could help change that calculus.
Organizers expect that there will be an impact on other races. "Marijuana reform on the ballot is motivating young voters in a midterm election unlike any issue we've ever seen" says campaign co-founder Jane Hamsher, who also publishes Firedoglake.com, a liberal blog.
The ballot initiative in California, Proposition 19, would legalize marijuana.
Arizona and South Dakota ballots propose allowing medical marijuana in the state.
Oregon's measure regulates medical marijuana with nonprofit pharmacies.
---