US Chamber of Commerce under fire for campaign finance
Liberal groups charge the US Chamber of Commerce with spending foreign donations on political ads targeted against Democrats. Chamber officials deny the charge, but campaign finance law makes it hard to know for sure.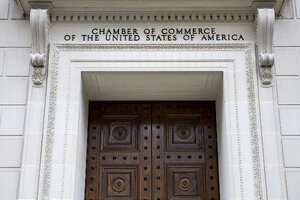 Newscom
If "money is the mother's milk of politics," as the late House Speaker Thomas "Tip" O'Neill liked to say, then it seems to be overflowing this political season. Not surprisingly, this has led to charges and countercharges about what's legal and ethical in campaign finance.
The focus of particular attention this week is the US Chamber of Commerce, a powerhouse in campaign financing with funds directed largely to the coffers of Republican candidates.
Liberal groups say the Chamber – which has budgeted $75 million to support its favorite candidates this year, almost exclusively Republicans – is using foreign money as part of its huge campaign war chest, which would be illegal. Chamber officials deny the charge.
But it's hard to know for sure, because under federal law the Chamber doesn't have to detail the sources of its campaign spending.
Embattled Democratic candidates, the target of Chamber-funded campaign ads, are crying foul, some pointing to the need to revisit last January's US Supreme Court 5-to-4 decision in the Citizens United case, which makes it easier for corporations and labor unions to influence elections through campaign advertising.
To dramatize the issue, the liberal groups MoveOn.org and People for the American Way will picket the Chamber's Washington office Thursday.
---