Scrapple? Candidates Christine O'Donnell and Chris Coons love the 'delicacy'
At the 19th annual Apple Scrapple Festival in rural Delaware, US Senate candidates Chris Coons and Christine O'Donnell worked the crowd of potential voters. And – surprise! – they both claim to love scrapple.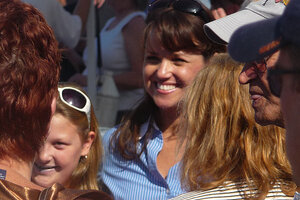 Warren Richey/The Christian Science Monitor
It's crispy brown on the outside, moist and spicy on the inside. And when served up with the candidates in one of the most-watched Senate races in the country, you get the 19th annual Apple Scrapple Festival in rural Bridgeville, Delaware.
Like the Bidens and slow traffic on I-95, scrapple is a Delaware tradition. For the uninitiated, scrapple is a Pennsylvania Dutch delicacy made of hog byproducts (snout, heart, liver), corn meal, flour, and spices, mixed into a mush and formed into loaves, then sliced off and fried. It's usually served for breakfast, but scrapple sandwiches make a fine lunch, or so I'm told. Here in Bridgeville, they've been making RAPA Scrapple – named for company founders Ralph and Paul Adams – since 1926.
Anybody running for office in Delaware knows that on the second weekend in October, the Apple Scrapple Festival is the place to be. (Apples are another big local product. You know what those are.)
Democratic Senate candidate Chris Coons and his wife, Annie, showed up first. Though polls show him far ahead of Republican Christine O'Donnell statewide, the conservative southern part of the state isn't exactly Coons country. Among the throngs of people out on this hot, sunny day, O'Donnell stickers and T-shirts far outnumber Coons paraphernalia.
---