How mail-in ballots might confuse polls - and Election Day results
Increasing numbers of Americans can vote by mail or absentee ballots. This makes it harder for polls to gauge who the winner might be and means some close races might not be called for days.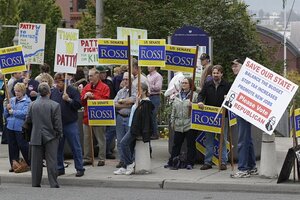 Ted S. Warren/AP
Election Day is more than two weeks off, and anything can happen in many key races that could determine the shape of the next Congress.
But millions of Americans already are able to vote, and many of them have marked their ballots as Election Day turns into "election month" across much of the country. More and more states are making it easier to file absentee ballots, and many states are allowing mail-in ballots to be postmarked (not just received) on Election Day.
This prolongs ballot counting, which means that in close races it could be days after voting stops before some races are decided. The practice can also throw off pre-election polls – those closely-watched indicators used to shape last-minute campaigning.
Take the US Senate race in Washington State, where three-term incumbent Democrat Patty Murray is in the fight of her life against Republican Dino Rossi.
Since 1993, voters there have been able to vote by mail, and ballots are mailed out at least 18 days before the tally begins. King County, which includes Seattle, switched to all-mail voting last year.
---