Study: Drug cartels would feel small pinch if California legalizes marijuana
If Proposition 19 passes and California legalizes marijuana, the financial hit to Mexican drug cartels would be a loss of 2 to 4 percent of their overall US revenues, says a RAND Corp. study.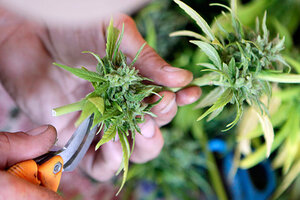 Marcio Jose Sanche/AP
If marijuana use were to become mostly legal in California, as called for by Proposition 19, will the drug cartels in Mexico take a big hit?
The argument that Prop. 19 would, in effect, "stick it to the cartels" has been one of the most potent of those who support the ballot initiative. An independent study released this week, however, offers a more nuanced view of that claim: If Prop. 19 were to pass, the California marijuana industry would indeed supplant the Mexican product, but the total financial hit to Mexican drug cartels in the whole US market would be small – about 2 to 4 percent.
The study, by the RAND Corp., comes less than three weeks before Californians go to the polls to decide the fate of Proposition 19.
RELATED: How much do you know about marijuana? Take our quiz
"We believe that legalizing marijuana in California would effectively eliminate Mexican DTOs' [drug trafficking organizations] revenues from supplying Mexican-grown marijuana to the California market. … [E]ven with taxes, legally produced marijuana would likely cost no more than would illegal marijuana from Mexico," states the RAND report. "Thus, the needs of the California market would be supplied by the new legal industry."
---