California and 'left coast' bucking the pro-GOP election trend?
In some key Senate and governors' races, the 'left coast' of California, Washington, and Oregon isn't tilting toward GOP as much as the rest of the country. Why not?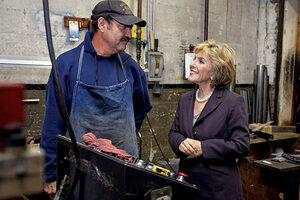 California is bucking the national Republican-leaning trend this election cycle. Democrat Jerry Brown narrowly leads Meg Whitman in the race for governor, while – in a race that could prove crucial for Democratic efforts to hold Senate control – Democrat Barbara Boxer is narrowly ahead of Carly Fiorina in the US Senate race.
Fueled by voter anger over everything from government bailouts, the handling of the Gulf oil spill, and health-care policy, Republicans lead in Senate races from Boca Raton to Boise, Philadelphia to Phoenix, and have narrow leads in West Virginia, Colorado, and Kentucky. In gubernatorial races, Republicans have significant statistical leads in all but Arkansas, Colorado, Hawaii, Minnesota, and five of six New England states.
---