In California midterm election's tight races, voter turnout is key
Voter turnout will be especially important for Democrats in the midterm elections. The higher the overall turnout, the more likely Democrats will benefit. Both parties are appealing energetically to independents and the undecided.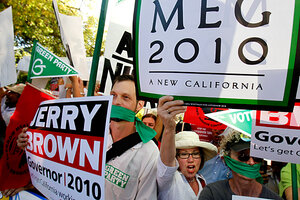 Robert Galbraith/Reuters
Sitting down to chicken tacos, rice, and a three-candidate congressional debate in the high school cafeteria, 60-something Don Potter says his votes are decided and that most seniors are also locked in because they are scared.
"Seniors are energized for this election," says Mr. Potter, a registered Republican and founder/editor of NewSeniors.com, a website written by and for those just turning 65. "We want to know what's going to happen with health care, taxes going up, the freeze on social security for the second year in a row … what world we'll give to our grandchildren.… We're very concerned."
But Potter says Democratic campaign workers are not coming after him because "they are focusing their energy on independents right now."
Two tables away sat proof of that observation in the person of 50-something day trader Peter Vukovich, a registered independent who says he won't make up his mind until two days before the election.
"Democrats and Republicans both are after my vote," Mr. Vukovich says. "The tea partyers want my vote, too, as a protest vote."
With polls showing California leaning narrowly Democratic in the two highest profile races, for governor and US Senate, the cliché that the election result "will depend on turnout" is even more poignant in California for this midterm election, analysts say. The testimonies offered by Potter and Vukovich are an indicator of how parties' get-out-the-vote programs are expending their resources, bypassing efforts to move some voters from entrenched positions while appealing energetically to the undecided.
---