Measure to legalize marijuana trails in California, if polls are right
California's Proposition 19, which would legalize marijuana use for adults, is trailing 51 percent to 39 percent, a poll released Friday shows. But some say polling on this issue may be problematic.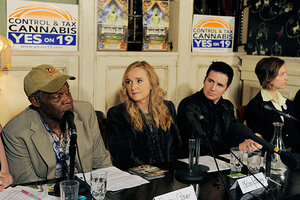 Chris Pizzello/AP
If this is Friday, California's ballot measure to legalize marijuana use for adults must be ... losing?
That, indeed, is the result of the latest poll on Proposition 19. A Los Angeles Times/USC poll released early Friday shows likely voters oppose the ballot initiative by 51 percent to 39 percent, with 8 percent undecided or declining to state their intent.
However, there are a lot of "howevers." Foremost is that poll results on this particular initiative have seesawed wildly – reflecting either fast-changing views of Californians about legalizing marijuana or, perhaps as likely, the difficulty of getting accurate survey results on this issue.
Four polls conducted in September, for instance, had Prop. 19 winning. This month, four polls have it losing and one poll has it winning. In all of those polls but one, the "undecideds" were at least 7 percent – and in most cases that undecided number was bigger than the win-loss point margin in the poll.
That, coupled with suspicion that pro-legalization respondents may not be telling pollsters their true feelings about the measure, makes it hard to tell what's really going on with California voters.
"There are very good reasons to think the polls could either be overestimating or underestimating Proposition 19's support," writes Nate Silver, a blogger for the election forecasting site FiveThirtyEight.com. "In spite of the recent trends against Proposition 19, therefore, I would be inclined to take the recent polling at face value, which suggests that the measure has about even odds of passing."
---