Vote 2010: How did Obama, Democrats lose their way on the economy?
Obama stands at the head of a party poised to lose control of Congress in Vote 2010. Democrats' handling of economic issues and the high unemployment rate are key factors.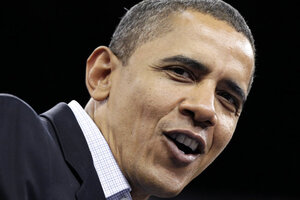 J. Scott Applewhite/AP
When Barack Obama set foot in the White House as president in 2009, Americans trusted Democrats by a roughly 2-to-1 margin over Republicans to do a better job dealing with America's major problems, according to an ABC News/Washington Post poll.
This echoed a pattern seen in other recessionary times, when voters pinned their hopes on Democrats to protect the pocketbook interests of regular Americans. Mr. Obama followed his election win with what many economists saw as a textbook policy response to recession: a fiscal stimulus package designed to boost the economy via government spending and tax breaks.
But now in Vote 2010, nearly two years later, Obama stands at the head of a party poised to lose control of Congress in a rebuke by voters.
What went wrong? How did Obama and the Democrats lose their way on the pivotal issue of jobs and the economy?
The answer boils down to two narratives: The first involves their own missteps. The second focuses on a "perfect storm" of economic troubles that would have made these midterm elections rough for any party in power.
Although many policy analysts emphasize one explanation over the other, the most plausible explanation may be that both factors combined to dig Democrats into an electoral hole.
---