Did Americans reject clean energy by voting Republican?
US environmentalists concede disappointment at the GOP's surge, but say the defeat of California Prop. 23 shows voters were motivated by the economy and not a rejection of clean energy.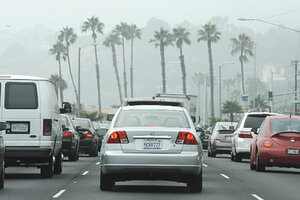 Kevork Djansezian/AP/File
US environmentalists, assessing the Republican tsunami that washed over the country, chose Wednesday to tout a key Election Day victory in beating back California's Proposition 23, a ballot initiative that would have reversed clean-energy requirements statewide – and led quite possibly to similar initiatives in other states.
It was a sign, they said, that voters were not rejecting clean energy or the environment, but were responding to concerns about jobs and housing.
"In the one race where the words 'global warming' were literally on the ballot, voters overwhelmingly voted for clean energy, and did so in a state with the country's third highest unemployment rate," said Gene Karpinski, president of the League of Conservation Voters. "This victory lays the groundwork for clean energy advances in other states and at the federal level as it represents the largest public referendum in history on clean energy and climate policy."
---
Follow Stories Like This
Get the Monitor stories you care about delivered to your inbox.