Did midterm elections lift Sarah Palin higher, or not?
Some big Sarah Palin picks – think Christine O'Donnell and Sharron Angle – lost key races in the midterm elections. But Palin made a lot of new friends in presidential primary states like New Hampshire and South Carolina.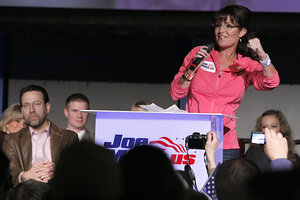 Rob Stapleton/AP
A day after Election 2010 one thing is clear: Sarah Palin, the moose-hunting former GOP vice-presidential candidate, just raised the stakes for a tea party-flavored 2012 presidential run that, let's face it, could start in a matter of months.
To begin with, Ms. Palin's endorsement win-loss record was 27-15 (with eight races still undecided), coming amid a historic Republican midterm sweep of a kind the party hadn't enjoyed since the 1920s.
Palin, who has become the "mama grizzly" embodiment of the antitax tea party and disaffected independents across the United States, accomplished two key goals with her contribution: She proved that, more than a year out of office, she is perceived as a Reaganesque player in national politics while at the same time laying a groundwork of new friends in suddenly high places.
RELATED: Tea Party Top 10 biggest winners and losers
But the former Alaska governor also played a role in thwarting a GOP Senate takeover, pretty much hoisting Christine O'Donnell and Sharron Angle past more mainstream Republican primary contenders who may have won on Nov. 2 – possibly giving the GOP a majority. Consequently, Palin's hit-and-miss effect on Election Day has reinvigorated a debate within the GOP about whether a Palin presidential candidacy would work against President Obama, who is all but certain to run, in 2012.
---