Bid to knock Rahm Emanuel off ballot for Chicago mayor: Can it succeed?
Rahm Emanuel's campaign calls the challenge filed Friday a political trick by those looking to 'hijack' the February election for Chicago mayor. Emanuel's residency status is again the question.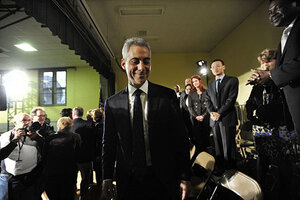 Paul Beaty/AP/File
A challenge filed Friday to invalidate Rahm Emanuel's candidacy in the Chicago mayoral race, says Mr. Emanuel's campaign, is a political trick by forces looking to "hijack" the election in February.
Chicago area election lawyer Burt Odelson filed his challenge to the Chicago Board of Elections, saying that Emanuel does not meet a state law that requires all candidates to be residents of the municipality in which they seek office for at least one year. He filed on behalf of two Chicago residents; on Wednesday, five other challenges were filed separately. Tuesday is the last day objections can be filed to the election board.
IN PICTURES: Inside President Obama's White House
Central to Mr. Odelson's argument is that Emanuel was removed from voter rolls twice during his two-year tenure in Washington, when he served as White House chief of staff to President Obama. During that time, Emanuel rented out his home. His campaign says he maintained ties to the city by paying property taxes, maintaining a driver's license, and voting in the February primary.
The challenges are likely to complicate Emanuel's campaign, in that a cloud of uncertainty will loom over his candidacy and he will likely be forced to address the issue in public appearances.
Odelson could not be reached by phone Friday by press time. He told WGN radio this week that because the voter rolls cannot prove Emanuel was a resident, he is flauting the state law, suggesting that his voting status may have been reactivated through insider connections. "[Emanuel] voted in the February 2010 primary. On face, that doesn't say you voted here correctly," Odelson said.
---