Rahm Emanuel back on ballot to stay, court rules, but there's still a footnote
By 7-0, the Illinois Supreme Court overturns an appellate court ruling that left Rahm Emanuel off Chicago's mayoral ballot. But two justices say the issue of residency is not so clear-cut, and defend lower court.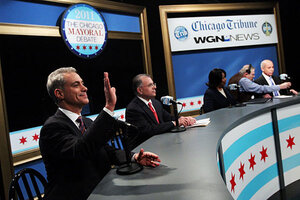 Chris Sweda/AP
Ending a flurry of legal maneuvers that injected unwelcome last-minute confusion into Chicago's mayoral race, the Illinois Supreme Court gave former White House chief of staff Rahm Emanuel the green light to continue his campaign for mayor of the city.
In a unanimous 7-0 ruling issued late Thursday afternoon, the court reversed a 2-1 decision by the Illinois Appeals Court Monday that threw Mr. Emanuel's name off the ballot.
At issue was whether or not Emanuel qualified as a Chicago resident under a state law that required anyone vying for public office in Illinois to reside in the municipality in which they were seeking office for at least one year. Emanuel, who holds a commanding lead in the polls, returned to Chicago in October after serving as President Obama's chief of staff for two years in Washington.
Since the Monday ruling, about 300,000 ballots were printed without Emanuel's name. However the state Supreme Court had ordered that the printing stop until it could decide on the matter.
---