Rahm Emanuel: Will big bucks decide the Chicago election?
The race for Chicago mayor has never seen this level of fundraising. Rahm Emanuel has raised almost $12 million – and former Sen. Carol Moseley Braun less than half a million.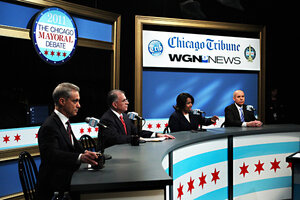 Chris Sweda / AP
Rahm Emanuel's bid to become the next mayor of Chicago is outflanking the competition by millions of dollars, most of it raised before a new Illinois law went into effect to limit contributions from donors.
According to data from the Illinois State Board of Elections, Mr. Emanuel's campaign fund totals $11.8 million, about four times more than rival Gary Chico, who has received $2.4 million. Former US Sen. Carol Moseley Braun has $446,000 and Chicago City Clerk Miguel del Valle has about $170,000.
Emanuel's multimillion dollar lead in fundraising is unprecedented in a Chicago mayoral race, says Cindi Canary, director of the Illinois Campaign for Political Reform, a non-profit public interest group located in Chicago. The majority of Emanuel's take, about $10.5 million, was earned though fundraising that took place between July and December. On Jan. 1, a new state law went into effect that limits individual contributions to $5,000, corporations and unions to $10,000, and political action committees to $50,000 per election.
---