2012 battleground states look a lot like the ones of '08, only redder
Obama's state-by-state Gallup job approval ratings are one way to gauge competitive hot spots in 2012 election. Of five likely battleground states, four now have GOP governors. Their performance could be crucial.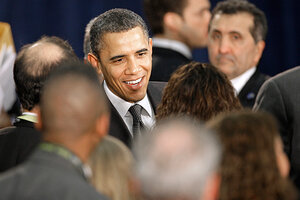 Tony Dejak/AP
Among the 50 states, President Obama has the highest average job approval rating in his native Hawaii (66 percent) and the lowest in Wyoming (28 percent), based on Gallup polling data from 2010. The District of Columbia came in with the highest figure of all, at 84 percent.
But between those goal posts there lies a story about the challenge Mr. Obama faces heading into his presumed 2012 reelection campaign. Overall, Obama's average job approval has dipped 11 points, from 58 percent in 2009 to 47 percent in 2010. (And he is currently hovering around the 47 percent mark, according to Gallup.) Only 13 states, all of them reliably blue, show him above 50 percent.
---