Chicago election results catapult Rahm Emanuel into mayor's office
No runoff needed: Rahm Emanuel, former US congressman and Obama chief of staff, wins a majority in Chicago election results to succeed longtime Mayor Richard M. Daley.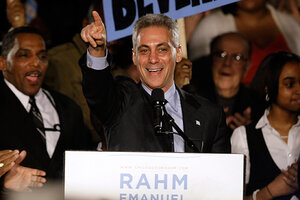 Kiichiro Sato/AP
Rahm Emanuel launched his mayoral campaign here in October shaking hands at El stations, a rush-hour ritual that would become familiar not just to him, but also to most public-transit commuters in Chicago. One-hundred-ten stations and thousands of handshakes later, Mr. Emanuel is mayor-elect of this city.
The former White House chief of staff and Democratic strategist won a hard-fought battle to become Chicago's 55th mayor, succeeding incumbent Richard M. Daley, who announced in September he would step down at the end of his term.
At a rally held at a union auditorium in the city's West Loop neighborhood late Tuesday, Mayor-elect Emanuel stood on a stage surrounded by his wife and two children, parents, brother, and local political leaders. At times choking with tears, Emanuel gave a 15-minute speech that outlined his priorities but mainly offered gratitude to supporters and stressed unity among all factions in the city.
What's your political IQ? Take the quiz.
"All I can say is, you sure know how to make a guy feel at home," he said. "What makes this victory most gratifying is it was built on votes from every corner of this city."
---
Follow Stories Like This
Get the Monitor stories you care about delivered to your inbox.