At rally, Tim Pawlenty adds tea party style to conservative credentials
Former Minnesota Gov. Tim Pawlenty, a likely Republican candidate for president with strong credentials but a rap for being 'unexciting,' sought to show a little flair at a tea party rally in Friday.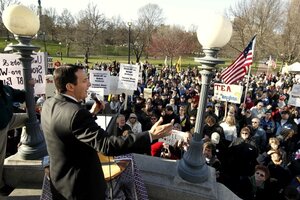 AP Photo/Winslow Townson
The street vendors selling "Don't Tread on Me" flags and Sarah Palin bobblehead dolls left no doubt that the tea party had again come to Boston Friday. But the man here to address them was perhaps less immediately recognizable – and he came here to help change that.
Former Minnesota Gov. Tim Pawlenty, who conservatives praise for his budget-trimming policies in Minnesota, took the first step toward a presidential bid last month when he formed an exploratory committee. Since then, analysts have noted he has a record that Republicans will likely embrace but a style less colorful than many prominent Republicans.
In Boston, Mr. Pawlenty criticized President Obama's fiscal policies, called for a balanced budget amendment, touted his record as governor, and – perhaps more interestingly – gave a peek at what a Pawlenty presidential run might look like. He must battle for name recognition, says Kathryn Pearson, a political scientist at the University of Minnesota.
"He may also be seen as unexciting," she adds.
---