Mitt Romney's health-care challenge: Did he pass his own test?
In a much anticipated speech, Mitt Romney tackles head-on the central challenge to his undeclared candidacy. Can he defend his record as governor while attacking Obama on health care?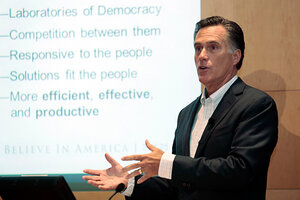 Rebecca Cook/Reuters
Former Massachusetts Gov. Mitt Romney Thursday defended the health-care reform he instituted in his own state five years ago, then pivoted to a stinging rebuke of President Obama's health reform – even though the Romney plan served as the model for the national reform.
In delivering the much anticipated speech on health care, Mr. Romney was tackling head on the central challenge to his as-yet undeclared second run for the presidency: how to trumpet his legislative accomplishments as a state executive while casting himself as a lead critic of Mr. Obama's health policy, a favored target of Republican leaders and voters.
If Thursday's speech was an indicator, the logic of that dual stance may still elude the party faithful.
Romney laid out the framework for a new federal plan that he would institute after repealing the Obama-era law. He asserted that federal health reform should use free-market principles and allow states to chart their own paths, rather than the top-down structure he says Obama has imposed.
"Our plan was a state solution to a state problem and his plan was a federal power grab," he said in remarks at the University of Michigan in Ann Arbor.
Both the Massachusetts law and the new federal law require individuals to purchase health insurance, a feature that is anathema to conservative philosophy. But Romney maintained there's a key difference between his state's reform and "ObamaCare": The mandate in Massachusetts was aimed at preventing "free riders" from receiving health care without paying for it, while the federal mandate is an abuse of power, he said. By law, a hospital may not turn away a patient seeking emergency care.
---
Follow Stories Like This
Get the Monitor stories you care about delivered to your inbox.