Herman Cain: Five signs that Cain's got momentum
Herman Cain jumped from 6 percent to 17 percent in the latest Fox News poll of GOP 2012 presidential candidates. Herman Cain is now just behind Gov. Rick Perry. And there are more signs that Cain's support is gathering momentum.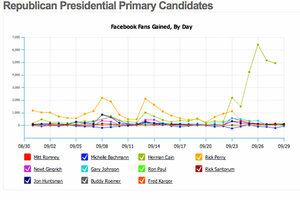 Inside Facebook
Is the man who brought you such hits as trademarking "The Hermanator Experience" and the "999 Plan" hitting his political stride? Is this Herman Cain's moment?
Exhibit A: This week's FOX News poll showing Herman Cain with the support of 17 percent of GOP primary voters, a hair behind Texas Gov. Rick Perry at 19 percent and within reach of Mitt Romney at 23 percent. Cain was at 6 percent a month ago, before the GOP's marathon debate schedule put all the candidates in front of voters over and over again.
Exhibit B: Cain crushed everybody at the most recent straw poll (in Florida), taking home 37 percent of the vote to Perry's 15.4 percent and Romney's 14 percent. While some saw it as a protest vote against Rick Perry, the fact remains: Cain cleaned house.
---