Mitt Romney in crosshairs of GOP candidates going into N.H. debate
Mitt Romney's unflappable debate style is likely to be tested Tuesday night. This is a make or break debate for Texas Gov. Rick Perry.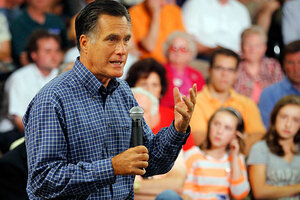 REUTERS/Brian Snyder
As Mitt Romney maintains his lead in the national polls, Republican presidential contenders are taking aim at the front-runner.
Tuesday night's debate in New Hampshire is a make or break event for Texas Gov. Rick Perry, who's seen his poll numbers drop. At the same time Herman Cain's polling numbers have been rising. Still, it's the former Massachusetts governor who is likely to get most of the critical attention tonight. Many GOP candidates are now fielding ads targeting Romney
"Even the richest man can't buy back his past," Texas Gov. Rick Perry's campaign said in a web video that describes Romney as the inspiration for President Barack Obama's national health care overhaul that conservatives detest and questions Romney's assertion that he is a "conservative businessman."
Rep. Michele Bachmann of Minnesota on Monday urged conservative voters not to support for a candidate who isn't one of them. "It's not good enough to settle for anyone but Barack Obama," she said while campaigning in New Hampshire.
---