Herman Cain: Who came up with the 999 plan?
With Herman Cain now a GOP front-runner in some polls, DCDecoder offers a four-point primer on Cain's 999 plan.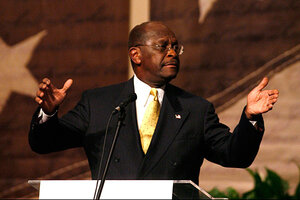 AP Photo/Mike Munden
Herman Cain, it may be your moment - as Decoder wrote yesterday, Cain is leading the entire GOP field in the latest Wall Street Journal/NBC poll.
Want to understand what all the fuss is about when it comes to Cain's "999" tax plan? Here you go.
1. The Plan itself. What may surprise many is that the "999 plan" - a 9 percent personal income tax, 9 percent national sales tax and a 9 percent business tax - is actually only phase two of Cain's overall tax vision. In phase one, Cain would cut individual and corporate tax rates to a maximum of 25 percent. Then, in phase two, he would implement the "999" rates. Phase three is the implementation of a "fair tax." That tax would amount to a single national sales tax (typically formulated at 30 percent) in lieu of all other taxes. Why not just go straight to the fair tax? Cain writes, somewhat nebulously:
Amidst a backdrop of the economic boom created by the Phase 1 Enhanced Plan, I will begin the process of educating the American people on the benefits of continuing the next step to the Fair Tax.
2. What do economists think about this plan? There are plenty of economists with plenty of opinions, but The Christian Science Monitor's Ron Scherer caught up with a boatload of them. In general, they aren't very bullish:
---