Herman Cain sings 'Imagine there's no pizza' (video)
Herman Cain sang as president of Godfather's Pizza, and he's still singing on the campaign trail. Check out these videos of Herman Cain singing.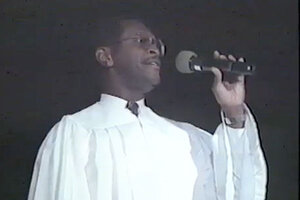 Omaha World-Herald
It's not enough that Herman Cain is the GOP presidential front-runner in the polls. Now, Herman Cain's vocals are going viral.
And No.1 with a bullet is a golden oldie. In 1991, when Herman Cain was working as president of Godfather's Pizza in Omaha, Neb.,the Omaha World-Herald reports that he took the stage with the Godfather's Girls chorus line during an Omaha Press Club event. Cain walked out on stage in a business suit, the Girls exited, and Cain began what sounded like a patriotic speech:
"One of the wonderful things about living in America is the freedom we have to laugh at ourselves," said Cain. "We have so many freedoms it is easy to sometimes take them for granted. It's helpful sometimes to try and imagine what it's like to lose some of those freedoms ..."
Then, Cain is re-joined on stage with the Godfather's Girls, who are now dressed as a choir. He slips out of his suit coat, and into a white choral robe before singing:
Imagine there's no pizza
I couldn't if I tried
Eating only tacos
Or Kentucky Fried
Imagine only burgers
It's frightening and sad
---
Follow Stories Like This
Get the Monitor stories you care about delivered to your inbox.