Who can vote? Maine and Mississippi consider opposite directions.
Two ballot initiatives Tuesday in Maine and Mississippi mirror the Democratic-Republican split on voter registration. At issue: Does expanding voter rights increase voter fraud?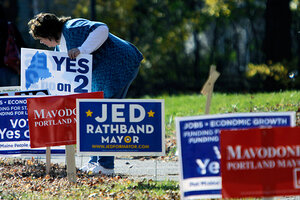 Pat Wellenbach/AP
Two states on Tuesday will consider how to balance voter rights against voter fraud in ballot initiatives that could provide momentum for other states to take up the issue in 2012 and beyond.
The split, which generally follows partisan lines, is also playing out in the Maine and Mississippi ballot votes.
Democrats allege that Republicans are setting stricter voting regulations in order to make it harder for traditionally Democratic constituencies – such as the poor and immigrants – to vote. In line with this, Maine is considering allowing voters to register on the same day as an election – something GOP legislators in Maine had banned.
Meanwhile, Republicans suggest that Democrats benefit disproportionately from voter fraud and that states must take more steps to ensure that voters are who they say they are. Accordingly, Mississippi is considering whether to require photo ID at the polling locations.
The votes are seen as being merely the latest round in a national play for power at the voting booth by Republicans and Democrats.
"This is a key, American political system debate that has become more and more important since the razor-thin Florida vote in 2000 showed voters across the country how crucial registration can be in electing officials all the way from town halls to the White House," says John Johannes, an election specialist at Villanova University in Pennsylvania.
The push for photo ID in the voting booth has already gained some traction nationwide. If Mississippi voters pass Initiative 27, the state would become the 15th to require photo identification at the polls.
"Voter fraud is not a new phenomenon, nor is it strictly limited to the participation of noncitizens," says Ira Mehlman, spokesman for the Federation for American Immigration Reform, which favors limiting immigration. "However vote fraud is perpetrated, the integrity of the democratic process demands that we take all reasonable actions to prevent it from occurring."
When Republicans took control of the Maine Legislature and the governor's office in 2010, they passed the law banning same-day voter registration precisely to target potential voter fraud. Question 1 on the ballot Tuesday is the voters' chance to veto that move.
---