Election results 2011: Voters signal that GOP overreached
Election results 2011 point to cautious voters, not moving sharply left or right. Voters did deal big setbacks to some Republican causes, but it's hard to read that as a boost to Obama's reelection bid.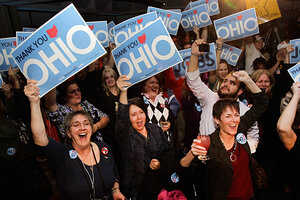 Amy Sancetta/AP
In an election that may offer an early glimpse of the political climate for next year's presidential contest, American voters showed they are frustrated but cautious – not moving sharply left or right.
Voters who cast their ballots Tuesday dished up big servings of humble pie to both major political parties.
Mississippi voters, in a surprise reversal of expectations, defeated conservatives' efforts to win America's first "personhood" law relating to human embryos. The ballot initiative would have declared that life begins at the moment of fertilization – a challenge to abortion rights that for a time looked set to pass in the Bible Belt state.
And in Ohio, a key swing state for the coming presidential race, voters overturned a Republican-backed law curbing the bargaining power of public-sector labor unions.
It was a major win for liberals, indicating that voters have limits when it comes to embracing Republican prescriptions for curbs on union power and related cuts in government spending as a solution for budget deficits. The outcome ripples beyond Ohio, energizing the spirits of labor unions and their supporters nationwide.
If those outcomes signal that many voters believe Republicans overreached coming out of their victorious 2010 midterm elections, it's hard to read Tuesday's overall results as giving any major boost to President Obama's bid for reelection. He will be battling high disapproval ratings over his own performance and public frustration over the weak economy. Traditionally, high unemployment rates pose a big obstacle to retaining the White House.
---