Lack of enthusiasm? It's the Democrats who have a problem.
Plenty of Republicans are unhappy with their choices for president. But Republican and Republican-leaning voters are still more enthusiastic about voting in November than their Democratic counterparts.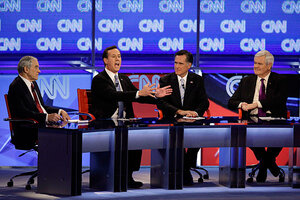 Jae C. Hong/AP
All the Republicans depressed about this primary season – a.k.a., the circular firing squad – should step back from the ledge. It's Democratic voters who suffer from an enthusiasm gap, not Republicans.
True, plenty of Republican voters are telling pollsters they wish other candidates were running. A Gallup poll last week found 55 percent of Republican and Republican-leaning independents feel that way. But when it comes to voting in November, they're more enthusiastic than the Democrats.
Some 53 percent of Republicans and Republican leaners say they're "more enthusiastic than usual about voting," compared with just 45 percent of Democrats and Democratic leaners, according to data from a USA Today/Gallup poll released Thursday.
In addition, Republicans are more enthusiastic now about voting than they were four years ago, when Arizona Sen. John McCain and former Arkansas Gov. Mike Huckabee were duking it out for the Republican nomination. In February 2008, only 44 percent of Republicans reported more enthusiasm than usual.
But no party today is as enthusiastic about voting as the Democrats were four years ago, when 79 percent said they were more enthusiastic than usual about voting.
---