Is bias-free news coverage coming back into vogue?
After years in which news outlets became associated with one political slant or another, there are some signs that a course correction is under way in the media. So far, the shift is a subtle one.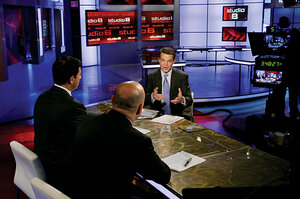 Richard Drew/AP
Here's a news flash: Politically flavored reporting – as in conservatives prefer Fox News and liberals like MSNBC or CNN – may be undergoing a rethink, as networks and some news websites seek to expand their appeal or shore up ratings.
The changes so far are subtle, and some media watchers are skeptical they will amount to much. But signs are building that some major news outlets are taking steps to de-emphasize political overtones, reemphasize facts, and pay closer heed to the "fair and balanced" standard of journalism.
Among them are the Fox News Channel, where a "course correction" is reported to be under way aimed at moderating on-air content, and the liberal Huffington Post, which is featuring a greater diversity of voices since founder Arianna Huffington expanded her domain upon taking the helm of media giant AOL.
Reports of these changes coincide with a groundswell of grass-roots groups demanding greater accuracy and accountability from online and on-air media. Efforts in the mode of the Tampa Bay Times's PolitiFact and factcheck.org include Craigslist founder Craig Newmark, who is quietly seeding ventures devoted to rooting out disinformation in the media.
---