Asian-Americans take higher profile in congressional races
The 2012 campaign cycle marks the highest number of viable Asian-American candidates ever – and not just on the West Coast. Their success could help Democrats regain ground in the House.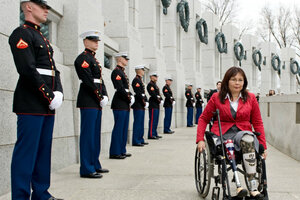 Cliff Owen/AP/File
A record number of Asian-American candidates are running for the US House and Senate this fall, and they have a message: It's time for a seat at the table that reflects their numbers in American society.
Just 5.8 percent of the US population is Asian, but only 12 out of 535 members of Congress, or 2 percent, claim Asian heritage, two in the Senate and 10 in the House. Now the numbers may be starting to catch up. Including Pacific Islanders, 30 Asian-American candidates launched congressional bids this cycle, compared with 10 in 2010 and eight in 2008, according to the Asian Pacific American Institute for Congressional Studies in Washington.
"This is a real opportunity for our community," says Gloria Chan, president and CEO of APAICS. "It really showcases our political power right now."
While six Asian-Americans were defeated in their primaries, 12 other contenders – 10 Democrats and two Republicans – will advance to the general election. Three running competitively for seats in New York and Illinois are poised to become their state's first Asian-American US representatives. This campaign cycle features the greatest number of viable Asian-American candidates in history, says David Wasserman, House editor for the nonpartisan Cook Political Report in Washington.
---