Pennsylvania voter ID law: Key swing states tinker with Election 2012 rules
A Pennsylvania judge refused to block a state voter ID law Wednesday, but Pennsylvania is only one of the key swing states squabbling over rules for Election 2012.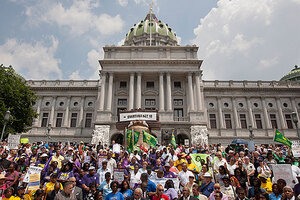 John C. Whitehead/The Patriot-News/AP/File
The ruling by a Pennsylvania judge Wednesday to allow a controversial voter identification law to go into effect puts a sharp focus on hyperpartisan voting rights battles heating up in key battleground states ahead of what could be a tight November election.
Pennsylvania Republicans passed a law earlier this year on a straight party-line vote that requires voters to produce a state-issued identification. Civil-liberties groups sued the state, claiming the law would disenfranchise minorities who would have difficulty producing documents like birth certificates to secure a state ID. But a Monitor/TIPP poll shows public opinion generally supports such laws, and Pennsylvania Republicans have refused to back down, contending that voter fraud constitutes the bigger threat to the integrity of the election system.
Judge Robert Simpson of the Commonwealth Court of Pennsylvania did not rule on the merits of the case, and he refused to issue an injunction. The American Civil Liberties Union and other litigants vow to ask the state Supreme Court to overturn the decision before November.
The partisan squabble over stricter voting laws is fueled by the stakes in November, where Pennsylvania, Wisconsin, and Ohio – three states that could have a significant influence on who wins the presidential race – are tinkering with who can vote and when.
"Very small things could turn this election," says Philip Meyer, a polling expert at the University of North Carolina in Chapel Hill. "Even if it's just a fraction of 1 percent who are affected by a voter ID law, that could be enough to change the outcome. There's no such thing as trivial in a close election."
---