Michelle Obama: from lightning rod to mom-in-chief
As Michelle Obama chisels out a new model for the office of first lady, she has become a key campaign asset. She speaks Tuesday night at the Democratic convention.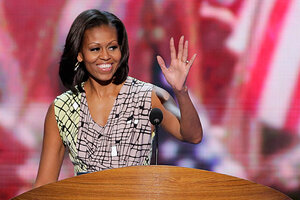 J. Scott Applewhite/AP/File
Before she became first lady, Michelle Obama was an easy lightning rod for conservative critics.
She suggested during her husband's 2008 campaign that she was proud of her country for the first time in her adult life, a remark that drew loud and lingering criticism. And she toyed with the idea of staying temporarily in Chicago after the election to allow her children to continue school and to provide some familial continuity – a big no-no for the cloistered Washington set awaiting her arrival.
But once the family made the move to the capital, Mrs. Obama eased into a groove, carving out a safe but intriguing East Wing portfolio of causes, from fighting childhood obesity to advocating on behalf of military families. Often wearing designer duds, she has become an elegant fixture at state dinners, on magazine covers and late-night television shows, and in international appearances. Now, as her husband fights for a second term, she is leveraging her own solid approval ratings as a top campaign fundraiser and the chief cheerleader for his reelection.
"I'd put her on the stump against anybody," says Myra Gutin, a professor of communication at Rider University in Lawrenceville, N.J., and the author of "The President's Partner: The First Lady in the Twentieth Century." "She's done very well for Obama out on the hustings."
By placing a substantive but stylish imprint on the job, Obama has also shown herself to be a model of post-baby-boomer success, a highly educated career woman who has lived her life in chapters: Ivy League student, gritty young professional, wife, mother, and, with her husband's ascent to the top job in government, public servant. It is her commitment to family, though, to daughters Malia and Sasha, that the campaign has happily touted as the president courts the crucial women's vote this election cycle.
---