Women for Mitt: why they say it's Obama waging a 'war on women'
Women voters who back Mitt Romney are ratcheting up grass-roots efforts to persuade other women that the economy is a women's issue. Polls show Romney trails Obama among women.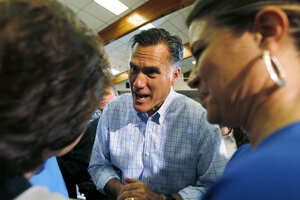 Rick Wilking/REUTERS/File
For Gina Maddox, a self-described "sassy Southern woman," this presidential race is all about injustice to women.
And for that reason, she says she'll be voting for Mitt Romney.
It is, in many ways, a reversal of the one of the major narratives that has defined this campaign. President Obama and his allies have suggested Republicans are waging a "war on women" through their policies on abortion and health care. But Ms. Maddox rejects that idea.
Liberal women and the left try to measure women's issues by their own yardstick "without asking the Republican women about their concerns," she says. Women's issues, she adds, are far larger than just social issues – and that's the message that she and other women who support Romney are taking to the streets, to Facebook, and to the phones to try to persuade other women to join them.
In a nutshell: It's the economy, ladies.
It is a smart move, experts say, though doubt remains about whether the tactic will be enough to overcome many women voters' traditional discomfort with the GOP's social policies. "Many people in the Republican Party are pretty extreme when it comes to pro-life or contraception, and a lot of women are uncomfortable with that," says Debbie Walsh, director of the Center for American Women and Politics at Rutgers University in New Brunswick, N.J.
---